Meeting Details
About Us
Upcoming Events
Testimonials
Be A Sponsor
News & Archives
JOIN US AT WOVI SHERMAN!
Chapter Launch Meeting: Tuesday, April 18, 2017
Join us at our launch of our newest WOVI Chapter:
WOVI Sherman
Tuesday, April 18, 2017
5:30 PM
Venue Off the Square
223 S. Travis St.
Sherman TX 75090
903.357.5290
(map)
Featuring Keynote Speaker, WOVI Founder Pauline Shirley
Featured Speaker: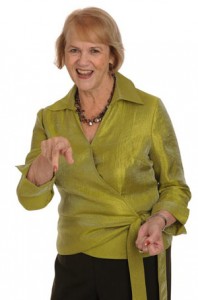 Pauline Shirley, WOVI Founder
On this auspicious occasion, we are happy to have the Founder of Women of Visionary Influence, Pauline Shirley. Pauline will share information about WOVI and support WOVI Sherman in its launch as an official chapter!
Pauline has a passion for leadership; she reached a pinnacle in leadership when she served Toastmasters International as International President, the second woman to hold that position in the company's then 70-year history.
Her defining statement is "Changing the World One Person at a Time."  She believes she does that in everything she does from leading WOVI to her involvement in Toastmasters to her passion for people's health and wellness through Univera.
Pauline lives with her husband, JD, in Richardson, Texas. They have two children, eight grandchildren and two great- grandchildren!
Location:
Regular meeting location is
Venue Off the Square
223 S. Travis St.
Sherman TX 75090
903.357.5290
(map)
Agenda & Costs:
5:30 Meeting Starts

$10 Members

$15 Non-Members

We look forward to seeing you!
RSVP & Questions:
To RSVP or to learn more, click HERE.
Members-Only
MentoRing Meet-Up:
We also have a members-only MentoRing Meetup each month on the second Tuesday from Noon until 1 pm at 
Fulbelli's Restaurant
115 S. Travis St.
Sherman, Texas 75090
(map)
Mentors and Mentees, or those not currently with a Mentor/Mentee connection meet for lunch and share one MentoRing as well as discuss their progress, meeting schedule and socialize. The next meeting is April 11. The agenda will be the same each month. No agenda other than a MentoRing. No speaker
WOVI Sherman Officers:
President
Ruth Williamson
1st Vice President
Sarah Pierce
2nd Vice President
Verna Morneau
VP Communications
Sherrie St. Cyr
VP Administration
Kristi Douglas
VP Member Services
Irene Lujan
VP Finance
Open
VP Programs
Open
VP Mentoring
Open
VP Membership
Open
About WOVI, Inc.:
WOVI, Inc. is a 501(c)(3) non-profit organization that empowers women to lead and mentor.
Our Vision:
Women empowered to make a difference in their lives, communities, and the world.
WOVI Sherman's Upcoming Meetings:
WOVI Sherman's Meetings Are Held On the Third Tuesday of Each Month.
Save The Date For These Upcoming Meetings!
Tuesday, 5/16/17
Tuesday, 6/20/17
LeadersRing™:
For more information, please see the LeadersRing™ page.
What members say about WOVI!
WOVI has given me the confidence and accountability I need to pursue my dreams. Also, WOVI has given me wonderful friends.
"The impact that WOVI has had on me since I became a member is huge. When I first became a member of WOVI, I was in the middle of some personal challenges. Going to the meetings helped me to move through these challenges by focusing on the topics that our meetings presented and stepping out of me and being of a help to someone else. I also developed deeper friendships with my already friends and cultivated new bonds of friendship with my new friends. By being in various leadership roles in our chapter, I am a better leader by just being in the presence of other leaders on the board. Learning and putting into practice leadership skills. As I stepped out of the chapter and went to the WOVI conference, I met other entrepreneurial minded women that have presented me with new and fresh ideas to increase my various streams of income. Therefore, making WOVI, an instrument of influence and of affluence.
What I like about WOVI best of all is the mentoring. Being mentored by others has led me to do things I never thought of or never would have thought possible, if I had thought of them. Being involved in a nonprofit from the very beginning has helped me in so many ways. I have learned about mission and vision. I have changed my career path at the encouragement and enlightenment from my fellow WOVI members. I have created, agonized over, and learned to live with budgets! My salary has increased by 71% since becoming a member of WOVI. I have become a better encourager and delegator. I have become a leader.
WOVI has provided me with the opportunity to become more creative and to be part of a group that is genuinely interested in empowering women. It gives me a unique insight into how to empower women outside the WOVI group, and understand at a much deeper level my influence on other women in my life.
Nervous and feeling vulnerable as I began to experience the power of the WOVI trademark Mento-Ring exercise, I received such important imformation from this educator , I was so uplifted I joined the very next meeting!
When I first came to WOVI I had a book I wanted to write but thought I lacked what it took to get it done. I found WOVI women to be dynamic, accomplished, down-to-earth, supportive, and uplifting. I was impressed by the caliber of woman that was attracted to this group and that made me step up my game. The support I received from people I barely knew helped me to gain confidence in my abilities to tackle this book despite the fact that I was a fresh-out-of-the-closet writer. I started to strive for goals that I had long been afraid to attempt. In the WritersRing, we have created a safe, dynamic, supportive environment that enables writers to open their hearts and minds, hone their craft, and find and explore their true voice. It is often the first place guests and new members have read their work aloud. With the support of the WritersRing, I forged ahead with my book and it will be out in May 2014. The title is The Global Red Circle – Standing in Truth, Unleashing Our Most Powerful Selves. I have even retired from my business of ten years to live my dream and be a full-time writer and a build a singing and songwriting career. WOVI women are the best!
WOVI has given me the confidence and accountability I need to pursue my dreams. Also, WOVI has given me wonderful friends.
WOVI women are so supportive. Meetings are rich in generosity, approval and opportunity.
WOVI is the one thing my energy drives toward every month – it is unique among women's organizations.
WOVI women are absolutely the most authentic, loving, supportive and fun women. I love that we have mentors for growth, support, and encouragement through new projects.
Would you, or someone you know, like to be a sponsor or a speaker?
If you would like to be a Sponsor or a Speaker at WOVI Sherman, contact us and let us know!
We sincerely express heartfelt thanks to Fish City Grill, Flower Mound, for supporting us by holding the WOVI Fundraiser on ...
Read More »
*** UPCOMING SERVICE EVENT 2/22 *** Help the Homeless AND mark off an item on your Bucket List! Wear your ...
Read More »
Amy is a fourth-degree black belt through the Yom Chi Taekwon-Do Association, and is a Class A certified referee and ...
Read More »
Click here for all WOVI Sherman News Posts