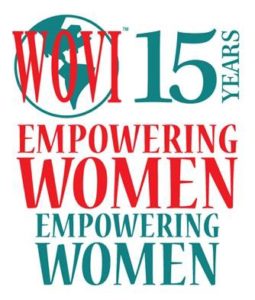 WOVI Annual Conference for Women!
Saturday, April 22, 2016
8:00am – 4:00pm
Location:
Hilton Garden Inn-Richardson
1001 W. President George Bush Fwy, Richardson, Texas, 75080
(

map

)
No, you are not seeing double. We are proud of WOVI's now 15-year endeavor and are making sure that you know 2 things: We are empowering women, and we are empowering other women! It's what we do best: WOVI, Inc. empowers women to lead and mentor!
April 22, 2017 is the next date to re-ignite your power. Join all of WOVI, Inc. at the Annual Conference for Women at the Hilton Garden Inn in Richardson from 8:00 a.m. to 5:00 p.m. With an array of outstanding speakers to intrigue and enlighten us, and breakout sessions that focus on things we KNOW women are interested in pursuing, it's a not-to-be-missed event.
Take a moment and register now! The meeting fee is small compared to the caliber of our presenters and the value of what you will receive. Just $79 gets our members in for a full-day of fun and focus on YOU! Non-members pay a little bit more to get a taste of what WOVI has to offer. Other opportunities are available for the businesses you are involved in: Vendor Faire to showcase your products and services and a first-time Book Faire for those of you who are published authors. Fees to exhibit include attendance to the conference, so you get the best of both worlds.
We need you there and you need to be there! Please join us and bring a friend…or two!
Member fees                                                                                    Guest fees
Conference $79                                                                                Conference $129
Conference + Book Faire $89                                                      Conference + Book Faire $139
Conference + Vendor Faire $99                                                  Conference + Vendor Faire $149
The full-day event includes a light breakfast and lunch plus multiple opportunities to meet and learn from fabulous women, shop at the Vendor & Book Faire, and brainstorm with us about mentoring and leadership. Take some time and invest in yourself! Empower yourself and empower others! See you there!
With Special Guest Speakers:
• Barbara Clayton, Keynote Speaker
• Shirley Walker-King, General Session Speaker
• Elizabeth Ellis, Luncheon Speaker
Panel Members:
Dr. Stacia' Alexander, Claire Billingsley, and Yvonne Silva
Panel Facilitator:
Frances Pelley
Educational Speakers:
Dr. Elexis Rice, Tara Hooper, Julie Cosgrove, and Peggy Edge
The morning offers Barbara Clayton presenting the concept of NOW, followed by a panel (Stacia' Alexander, Claire Billingsley, and Yvonne Silva) with expertise in reaching and exceeding goals. After the panel, Shirley Walker-King will help us balance and align. A relaxing luncheon follows with the ever popular storyteller Elizabeth Ellis.
Educational breakouts in the afternoon provide time with Dr. Elexis Rice, Tara Hooper, Julie Cosgrove, and Peggy Edge.
You will have time throughout the day to get acquainted with local merchants supporting WOVI in the Vendor Faire. And this year we have the addition of the Book Faire where published authors will have their books on display. There is truly something for everyone! Check out www.wovi.com to RSVP and then keep checking as details are added. Bring a friend…or two!
PDF Registration Form
Barbara Clayton
President, MINDSH/FT
www.mindshiftfocus.com
Keynote Speaker
The Power of NOW!
Nothing in our universe exists outside of now; now is our only moment in time. The past and future are illusions, both of which we have no influencing abilities. Empowerment exists only when now is fully embraced and lived.
When you embrace the power of now, you'll experience life like never before. Barbara Clayton, the Founder of MINDSH/FT, leads us on an exciting journey into living now to create a shift towards new thoughts and beliefs which convert into new actions and habits.
Frances Pelley
President, ProTemPro, LLC
www.protempro.com
Panel Facilitator
Panel moderator Frances Pelley, previously at Texoma Council of Governments for over 20 years, held to the mantra of connecting people to solutions, and now is President of ProTemPro, LLC and continues to lead transformational change. She is well known for responding to community needs, turning around nonprofits, and for volunteering at many agencies in the Texoma region. She was the founding President of the WOVI Red River Chapter, now in McKinney. Frances is married to attorney Scott Pelley. They have two sons and one granddaughter, and a second home in Colorado.
Dr. Stacia' Alexander, Ph.D.
Executive Director, Positive Influences
www.positiveinfluences.org
Panel Member
Dr. Stacia' Alexander of Positive Influences, is a licensed psychologist and seasoned professional clinician, life coach and trainer. She is the executive director of her private practice and maintains professional contracts with state, county and corporations. Stacia' is a heart teacher. She has spearheaded programs helping over 10,000 individuals and families. She connects with people giving them the resiliency to succeed.
Claire Billingsley
President, Billingsley Consulting Group
www.billingsleyconsultinggroup.com
Panel Member
Claire has over 20 years of executive experience with some amazing companies, such as Sylvan Learning Systems, FastSigns, Toni & Guy. A graduate of Emporia State University, a Certified Franchise Executive and a trained executive business coach, she serves on Board at The University of North Texas Professional Leadership Program, College of Business. She is a comedian, laughter yoga instructor, author, and TV Show host.
Yvonne Silva
Panel Member
Yvonne Silva is currently a coach, business owner, chief financial officer, and controller at DFW International Airport, where she also serves as President of the DFW Airport Women's Initiative Network (WIN). She has been in the board room and the White House, been an Internet entrepreneur and CFO of a shipping company, and therefore, a proven thought leader, and very effective coach and business owner. She is strongest when she is consulting, teaching, and advocating for women.
Shirley Walker-King
Educational Speaker
Empowered to Balance and Align
Radio talk show host, speaker and relationship expert, Shirley Walker King, possesses a wealth of knowledge, experience and expertise in human resource management and building better relationships.
We want to empower ourselves to work towards living our best life ever. Discover how to create a balanced life, learn the seven key factors to maintain a balanced life and how to get there. Addressing these seven factors will help each woman identify any area of her life that is out of balance, get realigned, and learn how she can help those in her circle do the same.
Elizabeth Ellis
Master Storyteller
Luncheon Speaker
The Company We Keep
Elizabeth Ellis will tickle our ears with "The Company We Keep," a delightful tale about how empowering others empowers us as well–stories of that circle and its surprising results. Elizabeth Ellis has been a storyteller for forty years. She is the 2013 recipient of the Lifetime Achievement Award from the National Storytelling Network and is the author of Every Day a Holiday and From Plot to Narrative.
The "Divine Miss E" is a versatile, riveting teller of Appalachian and Texas tales and stories of heroic American women, though her personal stories are arguably her best. Invariably hilarious and poignant, she is a repeated favorite at the National Storytelling Festival held in Jonesborough, Tennessee every October. She is a recipient of the John Henry Faulk Award from Tejas Storytelling Association and the Circle of Excellence Award from National Storytelling Network. She has mesmerized nearly a million children in her thirty-six year career as a professional storyteller.
Afternoon Breakout Sessions
Attendees will be able to choose from the following educational breakout sessions!
Dr. Elexis Rice
Consultant & Speaker, Elexis Rics Consulting
www.elexisrice.com
Educational Speaker
From Shake-Ups to Sacred Wisdom –
Empowering through Crisis
Dr. Elexis Rice asks if you have ever wondered "What has happened to my life?" Shake-Ups to Sacred Wisdom will enlighten us on how to gracefully flow through crisis—step-by-step. There is a time and season for all things. One minute we may in an achievement cycle in life and suddenly our life is completely dismantled. Sacred wisdom is a must to rebuilding a new life. Understanding the 9 life cycles gives us a wonderful tool to gain the strength to let go of our old life and step into the new! Come gain powerful insight from Dr. Rice.
.
Tara Hooper
Executive Presence Consultant
The Style Signature
www.thestylesignature.com
Educational Speaker
Awaken Your Influence!
Meet Tara Hooper, executive presence consultant at The Style Signature. Expertly skilled in impression management, she helps clients reveal their best with coaching and personal branding and become effective leaders to bring their A-game to the board room and beyond. As an entrepreneur and business owner for over 25 years, Tara is able to assist leaders in becoming successful, influential, and unforgettable. You are next!
Julie Cosgrove
Novelist, Speaker  & Internet Missionary
www.juliebcosgrove.com
Educational Speaker
Empowering Through Words
Julie B. Cosgrove, freelance writer, award -winning author and professional speaker with two new cozy mysteries series, The Bunco Biddies Mysteries and The Manson Mysteries, leads budding authors in the study of words.
Ancient civilizations believed that until something was spoken into words, it didn't come into being. Words do have power. They can build up or tear down. They can make the heart beat faster or shatter it into pieces. Learn how to use words to empower women (and a few men) to seek their potential.
Peggy Edge
Coach, Edge Consultants
www.peggyedge.com
Educational Speaker
Plan Your Work and Work Your Plan
Peggy Edge, a Certified Professional Coach, shares key steps how to grow your business with a workable business plan. She will focus on how to make business connections and seize opportunities. You will learn:
– How to create a roadmap to grow your business in 2017

– How to draft a killer 30-Second elevator speech

– How to identify, develop and train synergy partners
This session will help you in the marketplace and recognized as an expert in your industry.
Register Today! Special Pricing for WOVI Members!
Conference Registration
Register by downloading and mailing the registration form, and pay through PayPal below.
PDF Registration Form
Member Registration $79                                      Guest Registration $129
Registration after April 18, 2017 will include an additional fee of $100.00.
Vendor Faire and Book Faire Registration includes Conference Registration!
The opportunity to showcase your products and services includes attending the conference. Click below to pay for the faire of your choice.
Member Conference + Book Faire $89                                     Conference + Vendor Table $99
Guest Conference + Book Faire $139                                        Conference + Vendor Table $149
Vendor Faire and Book Faire Registration Deadline is April 18, 2017.
Registration after this date will include $100 late fee.
After April 18, please contact WOVI, Inc. for additional information.